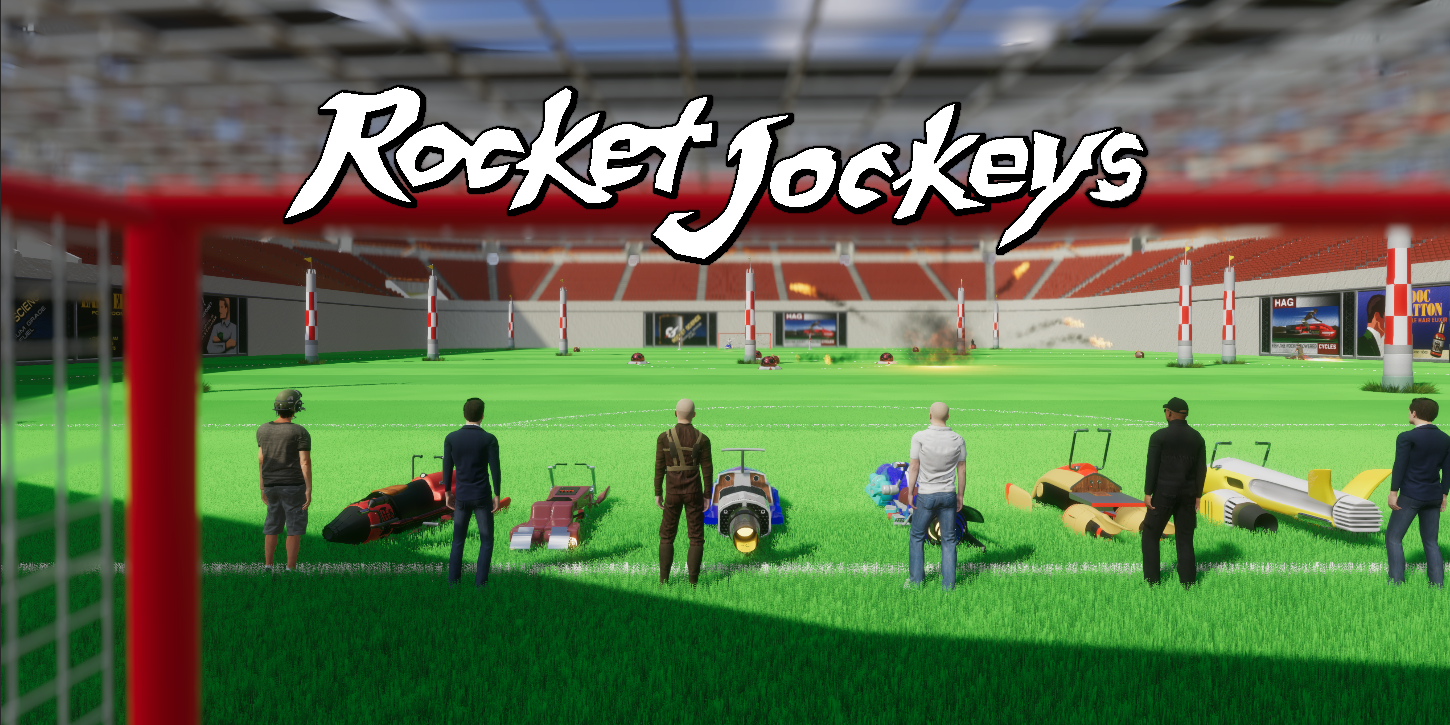 Rocket Jockeys - The Remake
A downloadable game for Windows
Greetings Rocketeers!
Ever since 1996, the release of the original Rocket Jockey game, people didn't have the opportunity to run, jump, fly, grab, kill, goal and race to their will in a new rocket jockey game... NO MORE!

Here is my take on a spiritual remake for the classic.
New Engine, New Graphics, New Physics but good old Gameplay!
Discord Server for updates:
Trello board (public) for suggestions/bug reports

Latest Gameplay video
https://www.youtube.com/watch?v=gvtG2oBwbIA
Please Check the readme File for instructions on Old Music Loading.
Features:
Run Fly Jump Ragdollize Grab Explode and Goal!
Split Screen Gameplay!
Upscaled 3D menus.
6 Rockets and 5 Characters
AI, more like AS (Artificial Stupidity) at this point but they have their highs and lows.
2 custom main new levels.
Almost fully working old game level loading.
Gameplay keys
WASD + IJKL + M + space (mouse also works you merge cables by clicking both cables at the same time)
player 2 uses an XBOX controller(Haven't tried other controllers yet).
Special keys:
F1 -Restart the game to the menu
Escape - Pause Menu
R - Restart the Level
Ctrl+F - Show FPS
GamePlay Description(Wikipedia):
Players control a Rocket "sled" (called a cycle in game), which is basically a rocket with small wings for directing the flight and grappling hooks mounted on the sides. These hooks can be fired into pylons, mines, sporting equipment, bodies, and anything else that can be grappled.
The grappling hook guns are fixed to shoot out horizontally, 45 degrees to the left and the right of the sled's direction of motion. The player can tap a key to connect the left grapple line to the right one and fly free, leaving a clothesline obstruction for others. Hence, grappling hooks serve a dual purpose: tight turns on stationary objects, and disabling competitors(and GOALS!).

I'm alone in this development endeavor, however kudos for Joel Garcia from the Rocket Jockey Facebook group for taking the time to convert the old levels to JSON format.

Credits:
Astar (A*) Pathfinding Project for on foot AI navigation.
Joel Garcia for helping with the original levels and content deciphering and for making the game bigger than I have ever imagined!
My friend Simon Albo for the 4th Rocket model (Purple-Blue one).
The Blender foundation for creating that amazing 3D Software for free!
GIMP for the upscaled textures.
The original Rocket Jockey team!
Me for the rest I guess?
Download
Click download now to get access to the following files:
Rocket Jockeys Remake - Day 50.7z
241 MB
Rocket Jockeys Remake - Day 45.7z
239 MB
Rocket Jockey Remake - Day 32.7z
236 MB
Rocket Jockey Remake - Day 28.7z
191 MB
Rocket Jockey Remake - Day 25.7z
166 MB
Rocket Jockey Remake - Day 6.7z
47 MB
Rocket Jockeys 50 Mac Version.zip
330 MB